Mekanistic Therapeutics: A Map for Selling to this Stealth Biotech Startup
December 08, 2020 | Amarpreet Singh |
Industry Articles, Discovering Biotech Startups
This branch of our Sponsor Atlas series focuses on young pharmaceutical and biotechnology companies that are in early stages or stealth mode. In the next edition of Sponsor Atlas: Discovering Biotech Startups, we're looking at Mekanistic Therapeutics, exploring the current affairs and future orientation of this emerging Michigan based biotech company. We will give a business overview of their current operations, summarize their outsourcing needs, map out their development goals and decision-makers, and highlight their current strategies for capturing innovation. If you haven't already read our other blogs on new biotech startups, be sure to check them out here.

Mekanistic Therapeutics, Inc. is a biotech start-up who is discovering and designing anti-cancer agents that inhibit multiple cancer drivers. Their lead agent, MTX-211 is a potent and selective dual inhibitor of two frequently aberrant cancer drivers and potentially effective against several cancer types generally resistant to monotherapy alone.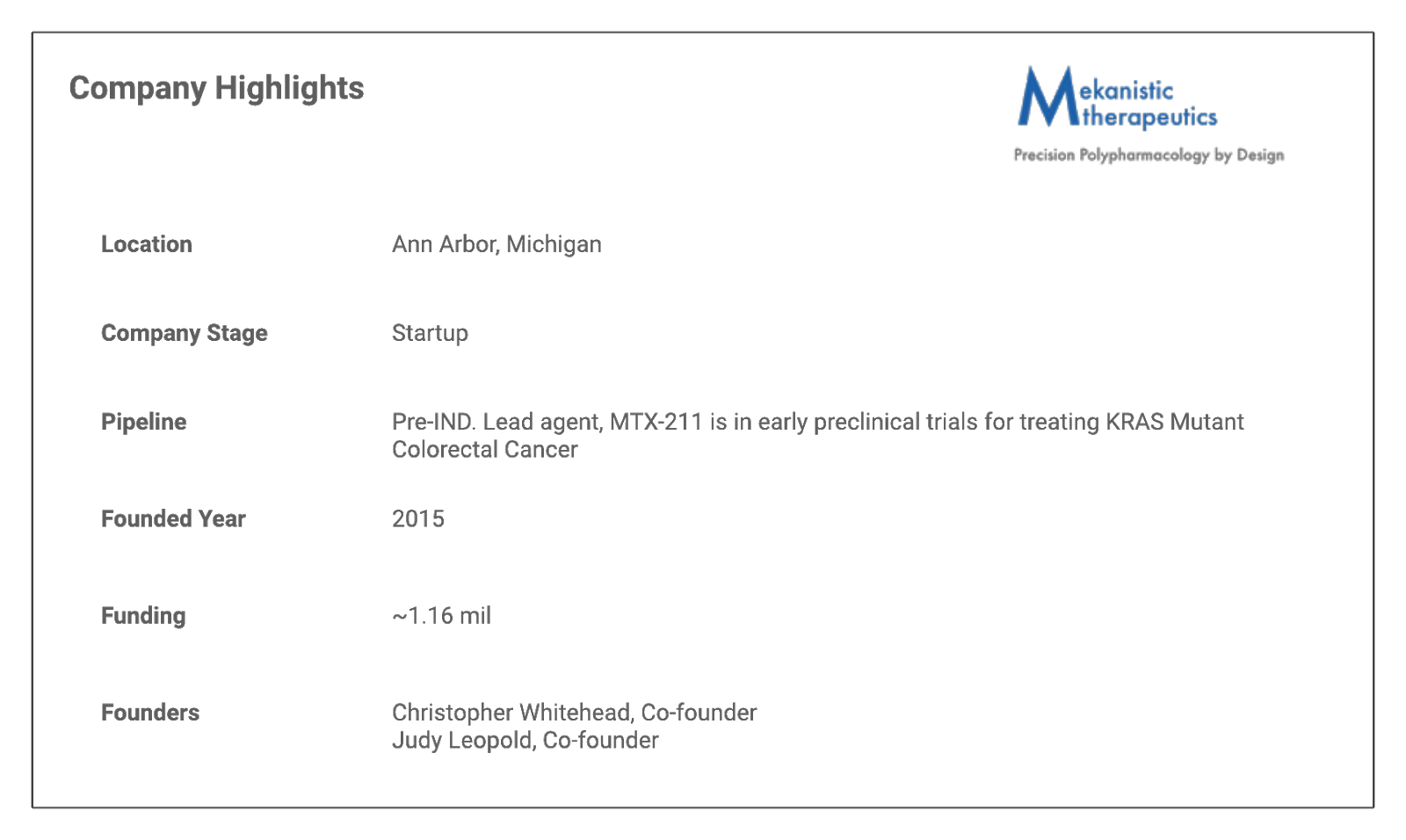 Business Overview

Founders of Mekanistic Therapeutics Dr. Judith Sebolt-Leopold and Dr. Christopher Whitehead are currently focused on the development of novel cancer therapeutics. Back in their University of Michigan lab, Sebolt-Leopold and Whitehead discovered and designed small molecules that can selectively hit two cancer targets simultaneously with reduced risk of drug-drug interactions.

Mekanistic Therapeutics is on the path to designing and developing anti-cancer agents that selectively inhibit multiple oncogenic pathways. Their lead agent, MTX-211, was discovered in collaboration with the Leopold laboratory at the University of Michigan. MTX-211 is a novel kinase inhibitor showing early promise for its therapeutic potential against solid cancers that are unsuccessful in current treatment options.

Mekanistic has received a decent amount of funding for the development of a unique treatment for KRAS Mutant Colorectal Cancer. The team has received a total of 2 SBIR awards, including $275k and $888k in early 2017 for the initial development of MTX-211. [1] This funding is going towards the initiation of feasibility studies required for successfully developing MTX-211 into a promising drug candidate. The subsequent Phase I and II applications will provide pivotal data necessary to develop a complete investigative new drug (IND) package.

Outsourcing Activities
Mekanistic will be using their NIH grant funding to actively pursue the development of MTX-211. With help from a range of service providers, Mekanistic will be performing preclinical studies and IND-enabling studies. This will move them one step closer to Phase I clinical trials.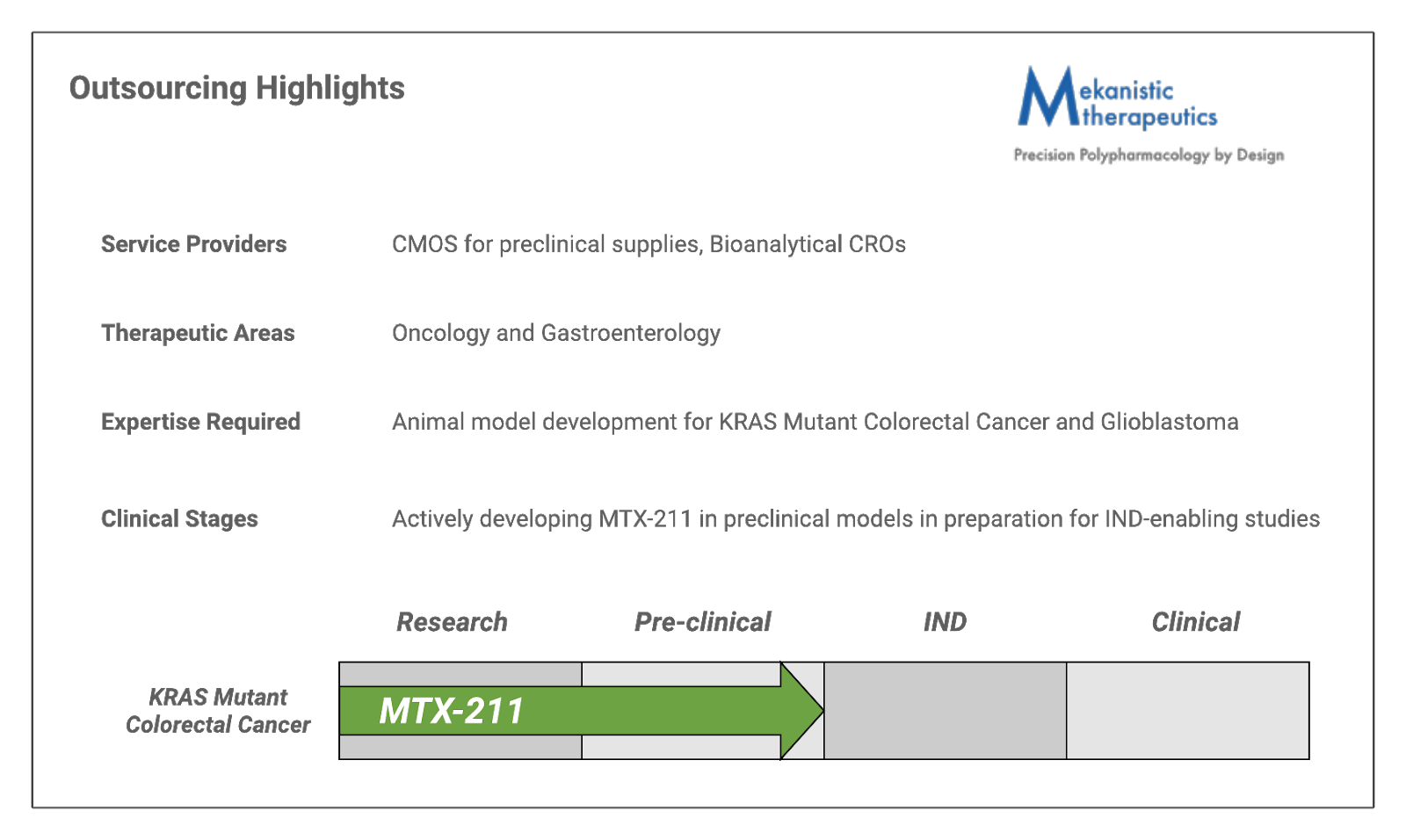 Mekanistic has been successful in its preclinical studies with MTX-211. When compared to immunotherapies, such as PD-1 inhibitors, MTX-211 treatment leads to better survival overtime in their current preclinical models. Interestingly enough, when given in combination with immunotherapy, there is an even higher rate of survival, suggesting that while MTX-211 could be a successful treatment on its own, and it may be even more effective with a partner therapeutic. [2]
R&D and Product Pipeline
Mekanistic's lead agent, MTX-211, was designed through many rounds of synthesis and represents the first-in-class opportunity to selectively inhibit EGFR and PI3K family members. Through early studies, MTX-211 has been shown to exhibit favorable pharmaceutical properties and the requisite profile for lead compound advancement. Because of its dual inhibitory profile against both EGFR and PI3K, MTX-211 has been effective against resistance mechanisms to Mitogen-activated protein kinase (MEK) inhibitor monotherapy. This is evidenced by a 300 to 500% increase in lifespan seen in KRAS or BRAF mutant CRC PDX-bearing mice co-treated with MTX-211 and a MEK inhibitor compared to single-agent control arms. Mekanistic is currently working on the chemical development of MTX-211 to deliver cGMP API needed for upcoming IND-enabling studies. [3]
Looking at MTX-211 more closely, the team at Mekanistic has discovered and developed this unique molecule to selectively and concurrently impair EGFR and PI3K signaling in cancer cells. EGFR and PI3K are known to be concurrently dysfunctional in a variety of tumor types, ultimately leading to poor prognosis. This lead compound represents a first-in-class molecule that selectively and potently inhibits both of these critical oncogenic kinases, which are known to drive progression in many tumor types, including colorectal cancer. They are currently working with Tech Transfer mentors-in-residence with expertise in drug development and regulatory strategy to develop a commercialization plan to take their lead compound into human clinical trials and broaden their pipeline. [4]

Decision Making
Dr. Christopher Whitehead, Ph.D., MBA - Co-Founder of Mekanistic Therapeutics, Chris has close to 20 years of research and development experience in biotechnology and pharmaceutical companies. He has held various research and business development positions at Pfizer and ProNAi Therapeutics. He made pivotal contributions to solving the first crystal structure of MEK. [5]

Dr. Judith Sebolt-Leopold, Ph.D. - Co-Founder of Mekanistic Therapeutics, Judith has 23 years of experience in the pharmaceutical industry. She has held research and senior management positions at Parke-Davis/Pfizer, where she developed a strong track record of advancing oncology drug candidates into the clinic. She pioneered the MEK inhibitor field and led efforts to introduce the first orally active MEK inhibitor, CI-1040, into clinical trials. She currently co-leads the Developmental Therapeutics Program at the University of Michigan's Rogel Cancer Center. [6]

Innovation
Dr. Sebolt-Leopold and Dr. Whitehead first worked together at Pfizer on the MEK inhibitor research team, as well as at the University of Michigan. Both of these researchers share a common vision for the need to design more effective drugs to circumvent resistance mechanisms commonly encountered with currently available kinase-targeted agents.

"The mission of Mekanistic Therapeutics is precision polypharmacology," Whitehead explained.

MTX-211 is innovative because it attacks KRAS oncogenic signaling using two independent mechanisms, serving effectively as a combination approach in a single molecule. Currently, there are no approved treatments for patients diagnosed with metastatic KRAS mutant colorectal cancer. Every year over 130,000 new patients are diagnosed with colorectal cancer. At the time of diagnosis, approximately 20% of these patients are already present with metastatic disease, as well as having 5-year survival rates of less than 15%. [7]

There is an urgent need to develop more effective therapies to improve the low survival rate for metastatic colorectal cancer, where the prognosis for patients diagnosed with tumors that harbor a KRAS mutation is extremely poor. MTX-211 represents a novel experimental agent that could have the potential to develop into a very effective medication in the near future.

How can I find Michigan based emerging biotech startups?
If you would like an automated solution for keeping an eye on drug sponsor companies without relying on static databases and generic lists of leads each week, we at Zymewire are here to help. Reach out today to discover more about the Zymewire platform, and stay tuned for the next installment of the Sponsor Atlas: Discovering Biotech Startups.

If you enjoy these articles, please feel free to give them a share through the social links below!