Guide to Gilead: A map for Selling to Gilead Sciences
April 01, 2020 | Xhermi Trimi |
Industry Articles
Note: This article was originally written for 2019 publication, and has since been updated.
Gilead Sciences is a California-based biotechnology company, with a particular focus on antiviral drugs. In 2018, Gilead ranked 9th on Pharmaceutical Executive's list of top 50 highest-grossing global pharmaceutical companies [1]. The company's prescription sales in 2017 came up to about $25.7 billion USD.
Gilead is a fairly recent company, founded in 1987 by a 29-year-old medical doctor and Harvard Business School graduate, Michael L. Riordan [2]. From its inception, the company's main therapeutic focus has been antivirals. This emphasis on antiviral therapies was inspired by the founder's personal experience with dengue fever, an untreatable viral disease, which he contracted while practicing medicine abroad in the Philippines.
Business Overview
In 2017, Gilead employed 9,085 full-time employees and 1,108 contractors across 35 different countries internationally [3]. Gilead's primary therapeutic area has always been antiviral therapies. They are especially focussed on products that address unmet medical needs, such as HIV/AIDS, liver diseases, hematology and oncology, inflammatory diseases and respiratory diseases. Their portfolio currently consists of around 30 products [3]. A summary of their top pharmaceutical products can be found in Table 1 below.
In 2017, Gilead's R&D expenditures totalled around $3.7 billion, a 27% decrease compared to 2016 [2]. They currently have 5 drug candidates for HIV/AIDS, 7 for liver disease, 11 for hematology / oncology, 7 for respiratory / inflammation, and 1 for antiviral. At the end of 2017, Gilead's research and development pipeline included 138 active clinical studies, of which 49 were Phase 3 clinical trials [3]. There are currently 154 active clinical trials being sponsored by Gilead.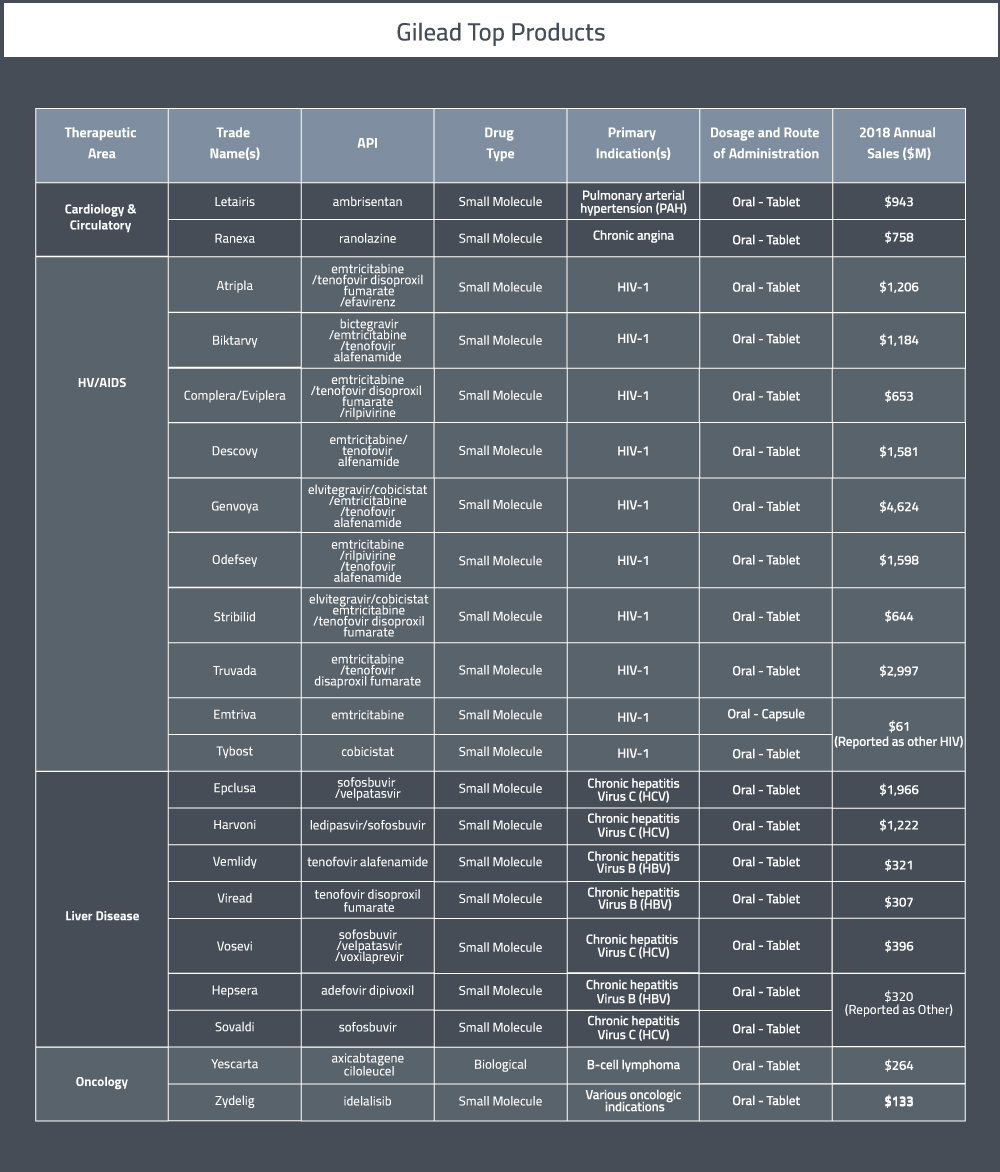 Outsourcing History
Manufacturing
Gilead owns and operates several manufacturing facilities and does manufacture some of their own API in-house. They maintain exclusive manufacturing rights for Yescarta (the CAR-T cell therapy) and ambrisentan (API of Letairis—although they have one other third party supplier qualified to make this API, should the need arise) [3]. Other than ambrisentan, the majority of their API for both clinical and commercial purposes is manufactured through third-parties, with multiple companies producing any given API [3]. Gilead contracts with third parties for the manufacturing of their oral liquid, tablet and capsule products as well as their aseptic products [3].
Research
Gilead relies on third-party contract research organizations (CROs) to perform the majority of their clinical studies, including document preparation, site identification, screening and preparation, pre-study visits, training, program management and bioanalytical analysis [3]. Gilead has more outsourced research than most companies within the pharmaceutical industry [4]. This includes drug discovery and pre-clinical development activities. For example, in 2015, Gilead partnered with X-Rx Inc for the development of its proprietary small molecule autotaxin inhibitors, which may play a role in diseases such as idiopathic pulmonary fibrosis (IPF) [5]. More recently, in 2018, they backed Tango Therapeutics and their CRISPR-based immuno-oncology discovery engine [6] and, in 2019, they entered into a licensing and collaboration agreement with Yuhan Corporation for the development of novel therapeutic candidates for advanced fibrosis [7].
Distribution
Sales and distribution of Gilead products in the United States is handled exclusively through the wholesale channel. There are three large wholesalers currently partnered with Gilead for their North American sales/distribution activities: McKesson Corporation, AmerisourceBergen Corporation and Cardinal Health Inc [3]. Elsewhere in the world, sales and distribution is handled by commercial teams, third-party international distributors or corporate partners. For example, Gilead has collaborative relationships with Janssen Sciences Ireland UC for sales and distribution of Odefsey, Complera/Eviplera and Symtuza in Europe as well as with Bristol Myers Squibb for Atripla in Europe [3]. They also have a partnership with Mylan Inc to distribute Sovaldi and Harvoni in India [8].
Drug Development Sites
Gilead's corporate headquarters is located in Foster City, California. This site also houses a majority of their administrative, manufacturing and R&D activities. Gilead has many other facilities in the state of California. They have R&D facilities in Oceanside and Santa Monica and manufacturing facilities in El Segundo, La Verne, Oceanside and San Dimas. They also have an operations office in Emeryville.
Gilead has a few other sites outside of California in North America. There is an R&D site in Seattle (Washington, USA). There is also a site for R&D and manufacturing in Edmonton (Alberta, Canada). There are corporate offices in Miami (Florida, USA) and Washington (District of Colombia, USA), as well.
Elsewhere in the world, the company has several offices for global operations in Europe, North America, Asia, South America, Africa, Australia and the Middle East (see map below). There is also a manufacturing site in Cork, Ireland.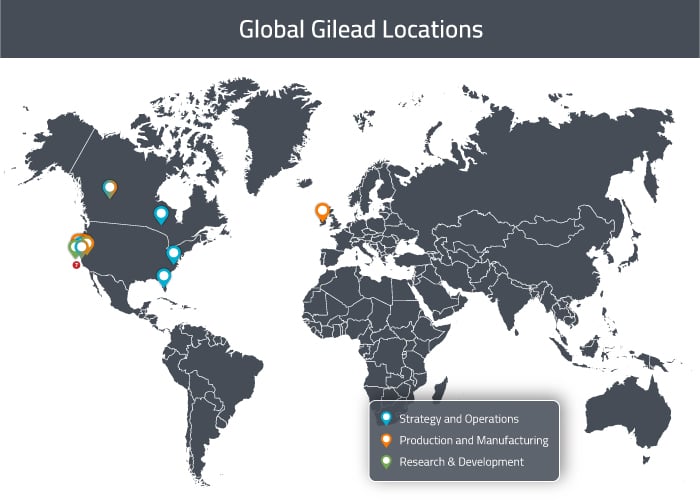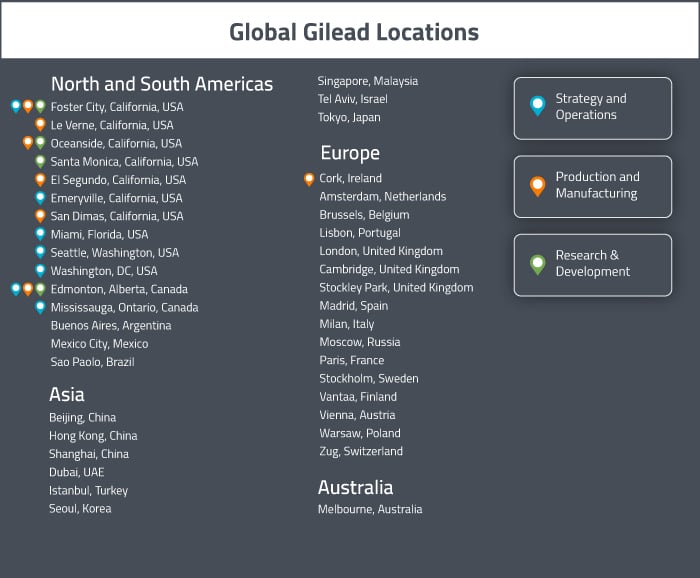 Decision Making
Decision making has been classified into three sections: clinical outsourcing, manufacturing and logistics. This is to facilitate outreach efforts by different types of companies looking to sell to or partner with this company.
Where are their clinical outsourcing decisions based out of?
For North America, the vast majority of clinical outsourcing decision makers are in the United States, especially in the San Francisco Bay Area (California) but also in Seattle (Washington), the Greater New York City Area (New York) and Raleigh (North Carolina). In the San Francisco Bay Area, you'll find a Senior Manager of Strategic Outsourcing, the Global Head of Clinical Development Outsourcing and the Associate Director of Commercial Outsourcing Operations. There, you'll also find multiple Clinical Trial Managers, Directors of Clinical Operations, Directors of Clinical Contracts and Directors of Clinical Research. In Seattle, you'll find a Manager of Vendor Outsourcing and Clinical Contracts as well as multiple Clinical Trial Managers, Directors of Clinical Operations and Directors of Clinical Research. Directors of Clinical Research are also based out of the Greater New York City Area and Raleigh.
For Europe, clinical outsourcing decision makers are mostly concentrated in the United Kingdom. In Slough (UK), you'll find a Manager of Clinical Outsourcing and a Director of Clinical Contracts. In London (UK) and Leicester (UK), you'll find Directors of Clinical Operations. You'll find multiple Clinical Trial Managers in London, Southall and Slough. Elsewhere in Europe, you'll find an Associate Director of Analytical Outsourcing in Milan (Italy) and a Clinical Study Director in Paris (France). In Paris, you can also find a Director of Clinical Operations.
For APAC, you'll find clinical outsourcing decision makers spread out across Japan, Australia and South Korea. In Japan, you'll want to look in Tokyo for titles like Clinical Trial Manager, Director of Clinical Operations, Manager of Clinical Contracts and Head of Clinical Operations. In South Korea, there is a Director of Clinical Research and some Clinical Trial Managers in Seoul. Finally, in Australia, there is a Director of Clinical Operations in Melbourne and a Clinical Program Manager in Sydney.
Where are their manufacturing decisions based out of?
Manufacturing decisions in North America are mostly based out of the San Francisco Bay Area (California, USA), the Greater Los Angeles Area (California, USA) and Edmonton (Alberta, Canada). In both the San Francisco Bay Area and the Greater Los Angeles Area, you'll find multiple Manufacturing Directors and Manufacturing Managers. In the San Francisco Bay Area, you'll also find several Directors of Outsourced Manufacturing and Managers of Outsourced Manufacturing. In Edmonton, there is a Manufacturing Manager and a Manufacturing Director.
European manufacturing decisions seem to be mainly split between Italy and Ireland. There is a Manager of Outsourced Manufacturing in Italy (Milan), as well as a Director of Manufacturing. In Ireland (Cork) you'll find the Vice President of Manufacturing Operations and a Director of Manufacturing.
For APAC, the decision making seems to be based out of Shanghai, China. There's where you'll find a Director of Outsourced Manufacturing and a Manger of Outsourced Manufacturing.
Where are their logistics operations based out of?
For those interested in logistics operations in North America, you'll want to look again to the San Francisco Bay Area (California, USA), the Greater Los Angeles Area (California, USA) and Edmonton (Alberta, Canada). You'll find many Supply Chain Managers and Directors of Supply Chain in each of these locations. There is also a Procurement Director in the San Francisco Bay Area. Elsewhere, you'll find some Supply Chain Managers in Puerto Rico and a Procurement Director in Phoenix (Arizona, USA)
For European logistics operations, you'll want to turn to the United Kingdom and Ireland. In the UK, there is a Procurement Manager in London and a Global Procurement Lead in Southall. In Ireland, there is a Supply Chain Manager and a Supply Chain Director in Cork.
Finally, for APAC, the only decision maker we could find was a Supply Chain Manager in Tokyo (Japan).
Innovation
Unlike other pharmaceutical giants, Gilead has stayed on the periphery of traditional biotech and life science hubs. For example, they do not have a site right in San Francisco's Mission Bay neighbourhood, which is renowned for being a premier biotech hub. However, they do have a huge presence in California overall, extending out from their headquarters campus in Foster City to Oceanside, Santa Monica, El Segundo, La Verne, San Dimas and Emeryville. Similarly, they do not have a presence in the Boston-Massachusetts biotech corridor, but they do have a site nearby in Washington, DC. They do have a presence in Toronto's budding life science hub, with an office in Mississauga (Ontario, Canada).
Again, Gilead differs from other pharmaceutical giants in that it does not yet have a specific venture fund for supporting biotech start-ups, as is usually the case in the industry. Instead, they regularly host grant competitions to spark innovation and provide opportunities for funding start-ups [9] and accept funding proposals year-round for North America, Latin America & the Caribbean, Europe, Africa, Asia and Australia [10]. Furthermore, as outlined in the OUTSOURCING HISTORY section, Gilead is a leader within the pharmaceutical industry when it comes to outsourcing research and they frequently enter into partnerships with biotech companies with promising new products and technologies; they foster innovation in this way.
Where can I find more information like this?
If you would like a simple solution for keeping an eye on drug sponsor companies, such as Pfizer, without relying on a database and generic lists of leads each week, we at Zymewire are here to help. Reach out today, and stay tuned for the next instalment of Sponsor Atlas: Selling to the Pharma Giants. If you enjoy these articles, please feel free to give them a share!