Blueprint to Biogen: A map for Selling to Biogen
September 08, 2020 | Xhermi Trimi |
Industry Articles
Note: This article was originally written for 2019 publication, and has since been updated.
‍
Biogen Inc. is a multinational biotechnology company, initially founded in Geneva, Switzerland in 1978. In 2003, Biogen merged with IDEC Pharmaceuticals (a San Diego, California-based company founded in 1985) and briefly adopted the name Biogen Idec. Following the merger, Biogen Idec became the 3rd largest Biotechnology company in the world.

When the company was originally founded, their business model was research-centered and they had no intention of manufacturing or distributing their drugs. Instead, they planned to focus on discovering candidates and then licencing them to big pharma companies for manufacturing and distribution. However, in 1994, when their first breakthrough drug for multiple sclerosis (Avonex) received preliminary FDA-approval, Biogen realized the market potential was too high to give up control [1]. Since Biogen did not have its own supply chain and did not have the time to build one of its own, it decided to set itself apart from traditional pharmaceutical companies by becoming a virtual manufacturer.

Their launch of Avonex was a huge success and the company has had several other breakthrough drugs since. They specialize in therapies for neurodegenerative, hematologic, and autoimmune diseases. In 2018, Biogen ranked 24th on Pharmaceutical Executive's list of top 50 highest-grossing global pharmaceutical companies [2]. The company's prescription sales in 2017 came up to about $10.4 billion USD.

Business Overview
At the end of 2018, Biogen employed 7,800 full-time employees worldwide [3]. Biogen's primary therapeutic area are multiple sclerosis (MS) / neuro-immunology, Alzheimer's disease / dementia, movement disorders and neuro-muscular disorders. Emerging areas of focus for the company are acute neurology, neuro-cognitive disorders, pain and ophthalmology.
Their portfolio currently consists of 9 marketed products in the USA and 3 partnered therapies [4]. A summary of their top pharmaceutical products can be found in Table 1 below.
In 2018, Biogen's R&D expenditures totalled around $2.6 billion, about 12% higher than 2017 [3]. They currently have 15 clinical programs [3]. There are currently 52 active clinical trials being sponsored by Biogen.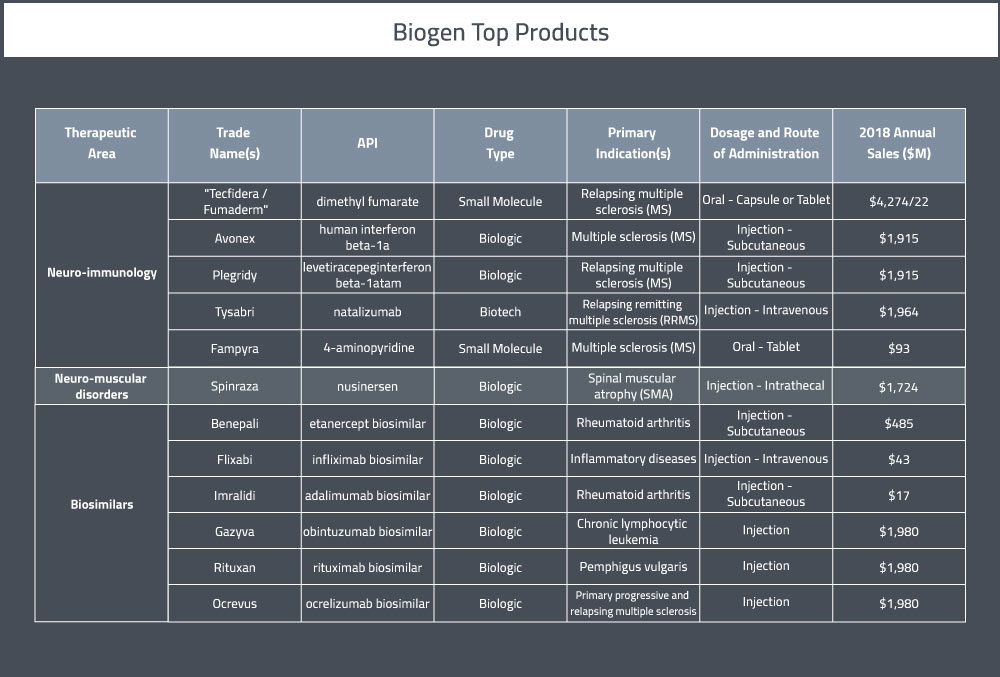 ‍
Outsourcing History
Since its inception, and especially since establishing itself as a virtual manufacturer with the launch of Avonex in 1994, Biogen has had a strong history of outsourcing to third party companies. They are reliant on their third party relationships for a variety of functions, including development, regulatory approval, commercialization, marketing, regulatory affairs and clinical development [5].
Manufacturing
Biogen outsources the majority of its manufacturing functions for active pharmaceutical ingredients, final products and drug candidates (both for small and large molecule products) [5]. Additionally, all of their fill-finish and most of their final product assembly and storage and packaging operations are outsourced to a concentrated group of third party CMOs. Multiple third party suppliers also provide raw materials, delivery devices (e.g. syringes, auto-injectors) for Biogen, through a dual-sourcing strategy to ensure continuous sourcing.

Biogen's first major CMO partnerships began just prior to the launch of AVONEX in 1994. Ben Venue Laboratories handled formulation, Packaging Coordinators handled packaging and Amgen handled warehousing and distribution [1].
Research
Biogen relies on third parties to carry out many of their clinical trial-related activities [5]. Despite seeing itself as a mainly a research-centered company, they also have a long history of partnering with clinical research organizations (or even acquiring smaller companies) for molecule discovery.

For example, in January of this year, Biogen collaborated with C4 Therapeutics to develop new treatments for neurological conditions using C4T's protein degradation platform [6]. Later this year, in March, Biogen acquired a gene-therapy for choroideremia from Nightstar Therapeutics PLC [7].
Distribution
Distribution for Biogen occurs mainly through wholesale pharmaceutical distributors and third-party distribution partners. In the US, distribution also occurs through mail-order specialty distributors and shipping service providers. AmerisourceBergen and McKesson (two American wholesale distributors) account for over 10% of Biogen's total revenues [8].

One unique distribution partnership recently announced by Biogen was their value-based reimbursement contract with Abarca Health in 2017. Abarca is a pharmacy benefit management company and this agreement is the first of its kind within the pharmaceutical industry. It ensures value for the patients and payers by connecting the cost of Biogen's MS products with patient outcomes [9].
Drug Development Sites
Biogen headquarters are in Cambridge, Massachusetts. Their international headquarters (for Europe and Canada) is in Baar, Switzerland. They have facilities in the Americas in Cambridge [MA], Weston [MA], Research Triangle Park [NC], Washington [DC], Canada, Argentina, Brazil and Chile. In APAC, they operate facilities in Australia, New Zealand and Japan. In Europe, they have offices in several countries including Austria, Belgium, Czech Republic, Denmark, Finland, France, Germany, Hungary, Ireland, Italy, Norway, Poland, Portugal, Slovak Republic, Slovenia, Spain, Sweden, Switzerland, The Netherlands and The United Kingdom. They have direct sales operations in 30 companies and operate through distribution partners in 60 additional countries [8].

The properties in Massachusetts and North Carolina include research and development laboratories, manufacturing facilities and warehouse space. In Denmark, they operate a large-scale manufacturing facility in Hillerød, but it was recently sold to Fujifilm [10]. Fujifilm will continue to generate product for Biogen at this facility under a manufacturing services agreement until construction of their new manufacturing site and warehouse in Solothurn, Switzerland is completed in 2020.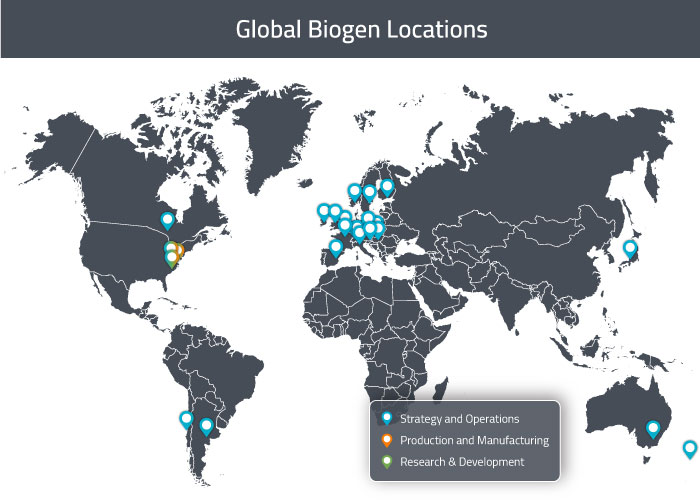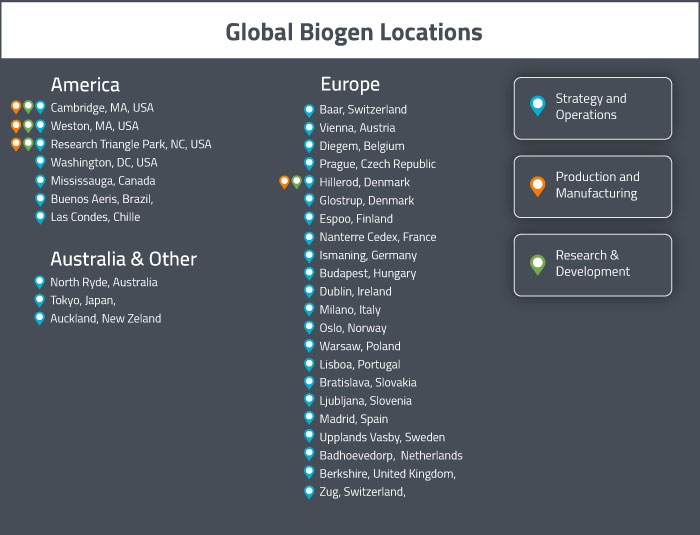 Decision Making
Decision making has been classified into three sections: clinical outsourcing, manufacturing and logistics. This is to facilitate outreach efforts by different types of companies looking to sell to or partner with this company.
Where are Biogen's clinical outsourcing decisions based out of?
For the Americas, most clinical decision making appears to take place out of the Greater Boston Area (Massachusetts, USA), however there are also a few clinical decision makers in Toronto (Ontario, Canada), the Greater San Diego Area (California, USA), the Greater Philadelphia Area and Raleigh Durham (North Carolina, USA). Clinical decision makers in the Greater Boston Area include: The Director of Strategic Outsourcing, and multiple Directors of Clinical Development, Directors of Clinical Operations, Managers of Clinical Operations, Directors of Clinical Data Management, Managers of Clinical Site Contracting and Directors of Clinical Pharmacology & Pharmacometrics. In the Greater Philadelphia Area, you'll find the Senior Director of Global Clinical Operations. In the Greater San Diego Area, there is a Director of Clinical Pharmacology & Pharmacometrics, a Director of Clinical Site Contracts and a few Clinical Trial Managers. Finally, in Raleigh-Durham there is a Manager of Clinical Operations and in Toronto there is an Associate Director of Clinical Country Leads.
For Europe, clinical decision makers are spread across the United Kingdom. In London, there is a Director of Clinical Operations and multiple Clinical Trial Managers. There are Managers of Clinical Operations in Reading, Watford and Hempel-Hempstead and there is another Director of Clinical Operations in Slough. Elsewhere, in Munich (Germany), you'll find a Director of Clinical Country Management.

There are less clinical decision makers in APAC, but they are not altogether absent. In Tokyo (Japan), there is a Head of Clinical Development and a Program Manager for Clinical Development. In Sydney (Australia), there is a Clinical Country Lead.
Where are Biogen's manufacturing decisions based out of?
The vast majority of manufacturing decision makers for Biogen in the Americas are based out Raleigh-Durham. There, you'll find multiple Manufacturing Directors and Manufacturing Managers. In the Greater Boston Area, you'll also find some Manufacturing Directors and Manufacturing Managers, as well as a Production Manager for External Manufacturing.
For Europe, Biogen's manufacturing decision making takes place in Denmark, Switzerland and the Netherlands. There are multiple Directors of Manufacturing in Copenhagen (Denmark) and Basel (Switzerland). There are also multiple Manufacturing Managers based out of Copenhagen, Basel, and the Almere Stad Area (Netherlands). In Zurich (Switzerland), you'll find the Manager of Contract Manufacturing and Director of Global External Manufacturing.

There do not appear to be any manufacturing decision makers in APAC.
Where are Biogen's logistics decisions based out of?
Biogen's logistics decision makers for the Americas are primary based out the Greater Boston Area, with a few decision makers in Raleigh-Durham as well. In the Greater Boston Area, you'll find a Director of Clinical Contracts, a Manager of Clinical Supply Management, a Director of Procurement, a Director of Supply Chain and several of each of the following titles: Director of Clinical Drug Supply, Global Procurement Manager, Clinical Supply Chain Manager, Director of Sourcing and Sourcing Manager. In Raleigh- Durham, there are multiple Procurement Managers.

For Europe, Biogen's logistics decision making is spread out across Switzerland, Italy, the UK and Denmark. In Switzerland, there is a Director of Supply Chain in the Lucerne Area and there is a Procurement Director, a Director of Strategic Sourcing and a Vice President of Global Supply Chain in Zurich. In Zurich, there are also several Managers of Manufacturing Logistics, Managers of Global Strategic Sourcing and Supply Chain Managers. Supply Chain Managers are present in Copenhagen as well. In the United Kingdom, there is a Director of Vendor Management & Contracting in Slough and a Clinical Contracts Manager in London. Finally, in Milan (Italy), there is a Director of Logistics and Tenders.
APAC has logistics decision makers in Japan, India and Australia. In Australia, there is a Lead Logistic Specialist in Sydney. In India, there is a Head of Supply Chain in Gurgaon. In Japan, there is a Procurement Manager in Kanagawa and a Supply Chain Manager in Tokyo.

Innovation
Biogen's corporate headquarters is located in Cambridge, Massachusetts, right at the heart of the Boston-Cambridge life sciences innovation hub. On their Massachusetts campus, they have research units dedicated to innovation in specific fields, such as their ALS Innovation Hub (orALS iHub), where they are focussed on developing novel therapies for ALS [10]. Another innovation hub where Biogen has an established presence is The Research Triangle, in North Carolina, where they have laboratories and manufacturing facilities.
From 2007-2010, the company ran a program called the Biogen Idec Innovation Incubator (bi3) program, where they provided funding, facilities and guidance for promising biotech startups in the Cambridge area [11]. Through this program, Biogen invested $10 million in external innovation. More recently, the company's strategy for harnessing external innovation has taken the form of acquisitions.
Where can I find more information on pharma giants?
If you would like a simple solution for keeping an eye on drug sponsor companies, such as Biogen, without relying on a database and generic lists of leads each week, we at Zymewire are here to help. Reach out today, and stay tuned for the next instalment of Sponsor Atlas: Selling to the Pharma Giants. If you enjoy these articles, please feel free to give them a share!