Discovering Kate Therapeutics
July 10, 2023 | Alec de la Durantaye |
Discovering Biotech Startups
Building partnerships in our fast-paced industry requires timing and context so that service providers can align their offerings with the specific needs of their ideal customer profile (ICP). Join us as we resurface our Sponsor Atlas Series, where we break down various biotech & pharma companies from all angles, to help you forge collaborative relationships.
This time, we're looking at Kate Therapeutics out of San Diego, California.
Business Overview
Kate Therapeutics (KateTx) is an emerging biotech company that recently exited stealth mode and is ready to make waves in the gene therapy space. Their mission is to develop AAV-based therapies to address the unmet needs of patients with genetically defined muscle and heart diseases.
They officially stepped into the scene in June with the announcement of their $51M Series A financing round, co-led by Westlake Village BioPartners and Versant Ventures. Other participants include Osage University Partners and UF Innovate | Ventures (University of Florida). While they officially "launched" alongside this announcement, we've been following them since early 2022, when they made a few conference appearances.

Chief Scientific Officer & Co-founder, Sharif Tabebordar spoke at the 2nd Annual Gene Therapy for Muscular Disorders Summit in April of 2022, and a month later at ASGCT.
Pipeline & Innovation
The KateTx pipeline is an exciting mix of drug candidates addressing muscle and cardiac diseases. Their lead candidate, KT430, aims to treat patients with X-Linked Myotubular Myopathy. XLMTM is a rare genetic disorder that affects skeletal muscles causing severe weakness and impaired function and predominantly affects males. The disease is caused by a mutation in the MTM1 gene and ranges in severity but almost always leads to early death.
KT430 is currently in preclinical development, though the young biotech has 4 other assets in the discovery and lead optimization stages.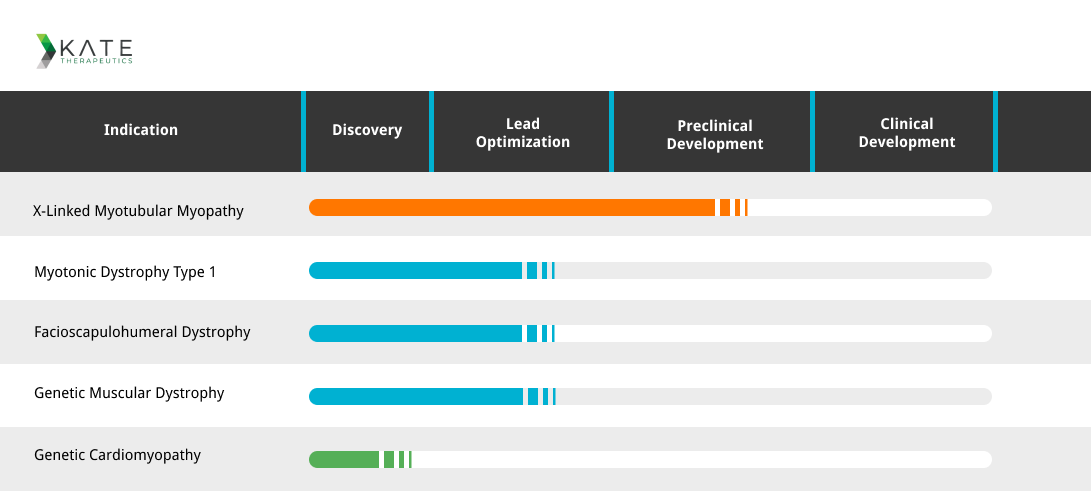 Platform Technologies
Cargo: A proprietary technology designed for tissue-specific delivery of genetic medicines. Skeletal and cardiac muscle promoters have limited capabilities when it comes to specificity and activity. To overcome this, KateTx is leveraging machine learning alongside transcriptome analysis to enable cell-type specific transgene expression via novel enhancer:promoter combinations. To avoid translation in non-target cell types, they use cell/tissue/disease-specific alternatively spliced exons to avoid pharmacological and toxicological issues.
DELIVER: A capsid engineering platform designed to create AAV capsid variants capable of selectively delivering a therapy to target tissues. This platform was used to develop a special class of muscle-tropic capsids that deliver high-potency packages to skeletal muscle and cardiac tissue with increased specificity compared to existing AAV capsid technologies.
Partnering Activity
Alongside their Series A announcement, KateTx announced an exclusive license agreement with Astellas Pharma. The partnership highlights the recognition of Kate Therapeutics' potential and the value of its lead drug candidate, KT430. This agreement grants Astellas the rights to develop and commercialize KT430 and demonstrates Kate Therapeutics' openness to partner with established industry players.

This partnership is a prime example of the importance and advantages of engaging stealth biotechs as early as possible to increase your likelihood of building a relationship. The collaboration between Astellas and Kate Therapeutics began far before the biotech startup was receiving any kind of publicity.
Decision Making
Kate Therapeutics was founded nearly three years ago by Kevin Forrest, Ph.D., Sharif Tabebordbar, Ph.D., and Mark Fielden, Ph.D.
Combined, the three of them share decades of experience in leadership roles with small biotechs such as Expansion Therapeutics and Cidara Therapeutics, as well as established pharma companies, namely, Roche.
Kevin is the current CEO of Kate Therapeutics and Sharif is the Chief Scientific Officer. Mark is the Senior Vice President of Nonclinical Development.
Christopher Kurtz, MD joined KateTx as Chief Medical Officer after spending nearly 8 years with Amgen. Gurpreet Ratra is a seasoned business development professional leading efforts at Adverum Biotechnologies, Spark Therapeutics, and Skyline Therapeutics, now he works as Chief Business Officer.
Robert Fiorentino spent 11 years with the FDA before joining REGENXBIO, then Janssen. Robert is now Vice President of Clinical Development and will surely have lots of work cut out for him as KateTx prepares to enter the clinic for the first time.
Finding Biotech Startups

Zymewire users can use this search to uncover ripe biotechs surfacing every day. You can also subscribe to our blog and follow us on LinkedIn where we report on all things biotech & pharma!